Fine dining restaurant software by Dyne
A luxury fine dine restaurant simply must be able to pamper the senses of its clientele by providing a memorable culinary experience, immersive ambience and superlative personalised service. In short, it's all about customer delight.

Since the customer expectations at a fine dine restaurant are much higher than at other F&B establishments, restaurant managers need all the help they can get to achieve their goals. Fine dine kitchens work with rather expensive raw material and tracking inventory and food costs is vital to ensuring that profits don't get eroded.
Dyne software has the right power tools to assist fine dine outlets in providing clients a personalised dining experience. Dyne has the technology to enhance the process right from accepting a reservation, identifying guests for the floor staff, tracking guest order history and preferences, ensuring accurate order taking, scheduling and timely order delivery, printing a detailed invoice, multiple flexible, payment settlement options and analysing customer feedback.
Dyne material management software makes it easy and practical to track food, liquor and non food inventory and determine cost per item.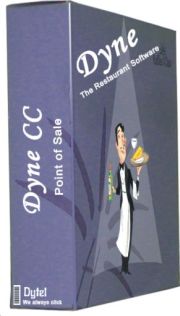 Dyne Software Representative Client List for Fine Dine / Table Service Restaurants
How Dyne software modules can help fine dine restaurants
Fine dine restaurants can use the Dyne modules below to streamline their operation. Be sure to contact us for a detailed demo to know all the details!
Other useful Dyne modules
Dyne:RC - Reservation management software ensures that tables are allocated in good time.
Dyne Kitchen Display System - Lets chefs look at orders onscreen and actively track delivery timelines.