DyneCC - The Complete Restaurant POS Software
Dyne:CC is the complete billing solution for restaurants. It is the most full featured POS software for fine dine, cafes, home delivery, food courts and any kind of business which delivers food and entertainment.

Dyne:CC based POS solutions are available on desktops, touch POS hardware as well as Wireless tablet devices.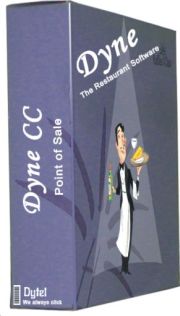 Dyne:CC Highlights
1500+ successful installations
25+ years of continuous product evolution
Extensively used across all F&B segments
Installation and support available across all Indian cities and abroad
Tested upto 100,000 individual orders per day
Turnkey installation available
Dyne Features
Supports keyboard based and touch based operations
Replicates floor plan layout on screen
Home delivery operations with customer base
Supports take away and over the counter sale operation
Open tab orders for lounge bar operation
Remote KOT printing to multiple kitchens and bar
Supports item toppings and modifiers
Enter instructions to chef when ordering
Multiple rates per item for AC / non AC section / delivery
Itemised and bill level discounting
Multiple settlement modes
Bill Spliting supported
User definable tax and service charges
More than 40 detailed sales analysis reports
Each feature / option / report within Dyne:CC can be secured for access
Fully audited complimentary and discounted sale
Imprest Money accounting
Dyne:CC Addons
Dyne addons enhance the functionality of the base Dyne:CC software.
Remote Reporter
Be in touch with your restaurant sales even while travelling! Dyne Remote Reporter automatically mails you a set of key reports at day close, so you are always aware of each outlets perfomance.
Wireless POS
Take customer responsiveness to the next level with Wifi Ordering in your restaurant. Dyne:WIFI allows you to reduce manpower on the floor and captains can continue to be present for the customers benefit after placement of order.
Kitchen Display System (KDS)
Eliminate delayed orders! Dyne KDS displays KOTs onscreen in the kitchen with indicators for late-running and on-schedule orders. Chef can mark the dispatch of finished orders.
Cashless POS
Food courts, Cafeteria and night clubs can avoid the hassle of cash management at every transaction by choosing the Dyne Cashless Addon (also known as Dyne:DC Debit Card Addon).
Clients buy one prepaid card which pays for all their orders. Clients can recharge the cards when needed and optionally get refunds on unspent amounts.
Simple, secure cash management for the most demanding situations.
Tally accounts integration
Sales / billing data from Dyne:CC can be imported into the widely used Tally accounts software easily using the Dyne Tally integration addon. Eliminate mistakes and save time while entering POS sales records into your accounts system. Combine this addon with the Remote Reporter addon and you can get sales data from all your outlets into your Head Office Tally installation everyday in a jiffy!
Dyne:CC Hardware Compatibility List
Dyne:CC works with
Touch screen POS systems of all major brands like IBM, NEC, EPSON
Regular desktop PC systems
Thermal and Dot Matrix Printers from EPSON and all other brands
Magnetic Swipe Card Readers
Barcode Scanners
Electronic Cash Drawers
Customer Pole Display